Wellington IT's annual customer event, cuEngage, kicked off on Thursday 3rd October at The Guinness Storehouse in Dublin.
Customers from across Ireland and the UK were in attendance and were welcomed by a short video highlighting just how far Credit Unions have come over the past 60 years. cuEngage was a real opportunity for Credit Unions to get together and share their thoughts and strategies, and also interact face-to-face with the wider Wellington IT team.
There were many key takeaways from the event, which are summarised below:
Roads?! Where we're going we don't need roads! (But we do need a roadmap!)
Ian provided an update on our 2019 Product Roadmap, and focused on 3 key elements.
The first was Microfinance. Wellington IT worked directly with An Post to automate the process through a file verification and upload service, which we provide through our shared services model. We were very keen to support this as it promotes financial inclusion and social responsibility - both of which align with the Credit Union ethos of people helping people. The automation has reduced manual effort, and now takes only seconds to complete, as opposed to an average of 10 minutes. And the best part? This integration is available now, and included in your maintenance!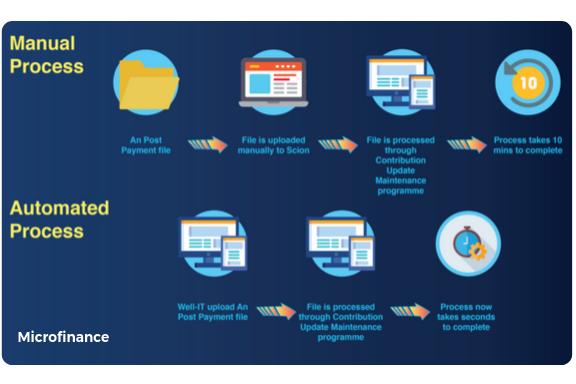 Ian then discussed the new version of cuInsight. In 2019, we updated the engine that drives cuInsight. This upgrade provides a number of enhanced security features and support for the latest operating systems. It also introduces a number of new product and data visualisation features. We've also refreshed the user interface to modernise the product and make it more intuitive. Running and exporting a report takes less time - in 2 minutes . We will start the roll-out process towards the end of this year.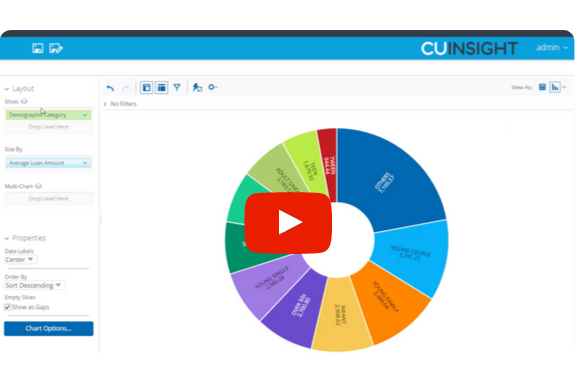 Can't view this image? Click here to watch the video.
Finally, we couldn't reflect on 2019 without talking about PSD2. It's been such a significant project for the finance industry and has been likened by many to a modern day Y2K! Ian highlighted the approach we took, and how it differs from when we approached compliance projects previously. The below diagram shows that Wellington IT engaged with all relevant stakeholders in a phased approach, starting from the User Group, then a third-party consultant (fscom) and we communicated with our customers every step of the way. This approach proved successful, and we will continue to work this way for future projects.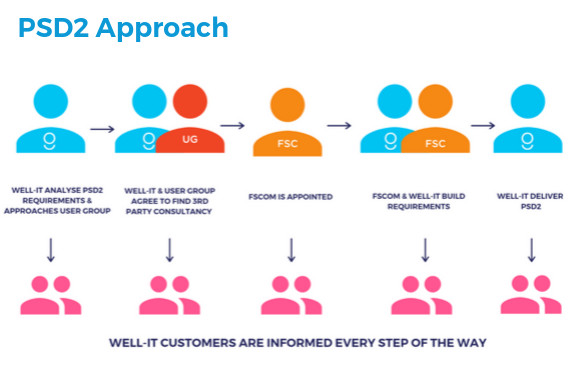 Current Account Strategy - Denis O'Shea, St Paul's Garda Credit Union
Denis discussed the strategy St Paul's Garda Credit Union implemented when it came to offering current accounts to their members. They wanted to attract younger members and qualifying family members, therefore they needed to provide full banking services. Their members can now have a current account, which includes a contactless, Mastercard debit card that can be used all over the world and online. For St Paul's, offering current accounts reduced lending risk, and opened up additional business opportunities for them, i.e. overdrafts, contactless debit cards, income via fees and charges etc.
So far, St Paul's have 26,000 adult members with more than 18,000 already registered for cuOnline+. They've doubled their monthly online transactions since 2014, from 2,500 to 5,000 and 60% of account transactions are online. Currently, they have over 1,200 members using their new contactless debit card.

Next stop: the future! 2020 Product Roadmap launch - Ian Glenn, Wellington IT
The key themes for the 2020 Product Roadmap are;
Product Simplification, e.g. Scion, new look and feel
Lending - e.g. Loan Automation
Member Experience - e.g. mobile app enhancement
This year, we introduced an interactive poll which was pushed out to customers. Customers had their say on the projects for 2020, and which quarter of the year they would like to see them in.
This proved very successful, with 97% of attendees using the app to have their say! We've also sent this poll out to our wider customer base to ensure we get the most accurate feedback from customers that we can, and to ensure our 2020 Roadmap is in line with what our customers want.
Open Banking; beyond PSD2 - Alison Donnelly, Fscom
Alison opened her talk with PSD2, and how sometimes directives can be seen as a "bind" but in fact, they open up competition. It's about opening up the market to new players and giving people more choice.
For Credit Unions, they can consider whether there is an opportunity to provide their members with a better service. Would it be helpful to members if they could log on to their Credit Union's online banking platform, and see in that portal information on their Credit Union account, and also information on their current account and credit card account from other banking providers.
Members would have a holistic view of their finances and understand where they could make savings or spend less.
Like the current account offering that Denis O'Shea spoke about, Credit Unions would benefit from this as access to this data would mean they would have reduced lending risk. Credit Unions would be able to monitor members' spending/saving behaviour very easily, and make better informed and faster decisions when it comes to lending.
cuL8r
After the main sessions, and a very interactive and lengthy Q&A session, everyone made their way up to the Gravity Bar to have some dinner, drinks and mingle. Our customers had a chance to speak to Wellington IT staff and to each other, which highlighted that many Credit Unions have the same priorities and strategies for the upcoming year.
Check out the video below for a summary of what cuEngage 2019 was all about, including interviews from the speakers and the attendees!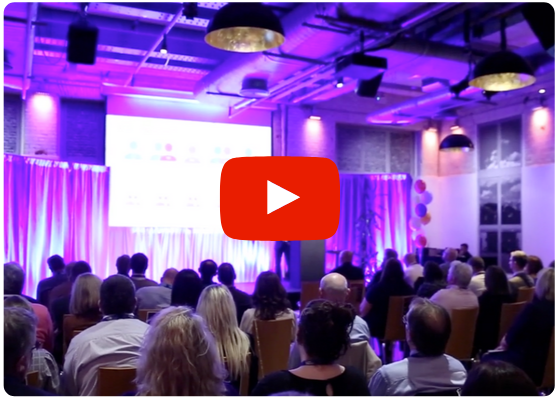 Can't view the image above? Click here to watch video.