Executive Summary
Decision-as-a-Service provides you with a deduplicated Credit Report from ICB

,

CCR

and Vision-Net

It provides you

with

a recommended decision for loan applications, saving your staff precious time
Reduces lending risk and human error

through data driven

whilst being compliant and fully auditable

Approve and lodge a loan into member's account in minutes

In the future, Decision-as-a-Service will merge with Scion's credit scoring module to provide an even more holistic view of members' credit histories

It paves the way for the future of automatic approvals
D

ecision-

a

s-

a

-

S

ervice

combined with cuMobile, eSignatures and automated tasks in Scion, can automate the entire loans process to

ensure a modern and exceptional member service

,

backed up by the human touch

.
According to a survey commissioned by BIC last year, respondents said just 30 seconds of waiting in a line would be enough to try their patience, and half said they are likely to switch to a different line if the one they're in isn't moving fast enough.
Imagine this same view was applied to receiving a loan.
Our patience thresholds are lower than ever before and it's mostly due to technology and the on-demand culture.
So it's vital that your members have an exceptional experience when applying for a loan, and this includes the speed at which they receive it.
How does Decision-as-a-Service benefit

y

our members?
Currently, when a loan application comes in, you need to manually run two credit checks; from the ICB and CCR. This means you need to manually check 2 credit reports per member application.
This takes time, and also has more room for human error, which in turn holds up a member's loan application.
If you have DaaS implemented as part of your loans process, you will receive a deduplicated Credit Report from ICB and CCR (which you can analyse should you wish to), but you will also receive a recommended decision based on a credit scoring derived from socio-demographic and internal Credit Union data.
DaaS provides the ability for Credit Unions to approve and lodge a loan into members' accounts within minutes, providing a much quicker and better experience to members.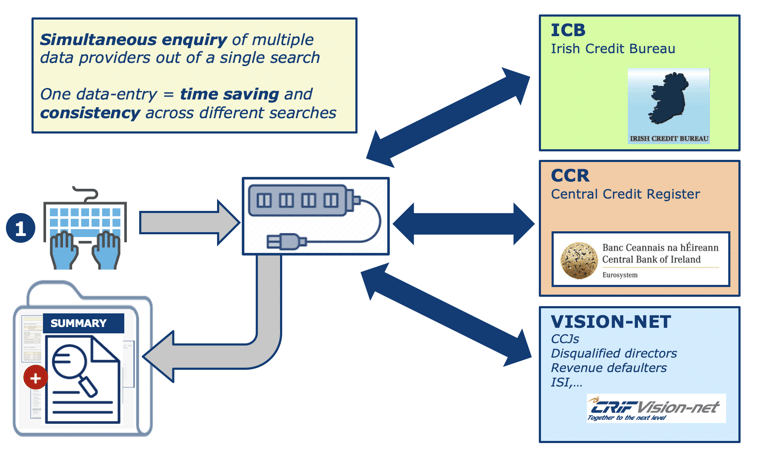 How does Decision-as-a-Service benefit your staff?
The recommended decision that DaaS provides is based off of data and stats, not bias or assumptions, therefore it boosts the quality of your loan book and reduces lending risk. It also massively reduces natural human error.
Time is saved as staff don't need to manually analyse and interpret 2 credit checks and instead can spend time processing more loans, larger loans or marketing your services.
CRIF's tried and tested scientific scoring process provides a reliable, auditable algorithm for decisions.
The recommended decision can be either "approve" or "refer" based on the statistical data analysis. If you receive a "refer" decision, you can review the rationale and if for example you realise your member didn't include all of their income (e.g. benefits payments), following a review and consultation with the member, you can amend their application and rerun the credit check and it will update the recommended decision – ideally to "approve" decision. Excellent for a factual, auditable trail.
What does the future of Decision-as-a-Service look like?
The next step with Decision-as-a-Service is to merge the ICB and CCR credit checks with Scion's Credit Scoring module. This will provide an even more holistic view of your members' credit history and behaviour. For example, your member may have a middle-of-the-road credit score, but you know from their previous Credit Union loan that they paid it back on time every month.
Once you are happy with how DaaS has integrated into your loans processing, and you are confident that the recommended decisions are correct, you can look to configure DaaS to automatically approve loans. For example, any loan application that comes in for €2000 or under and has a recommended decision of "Approve" then it should be auto approved.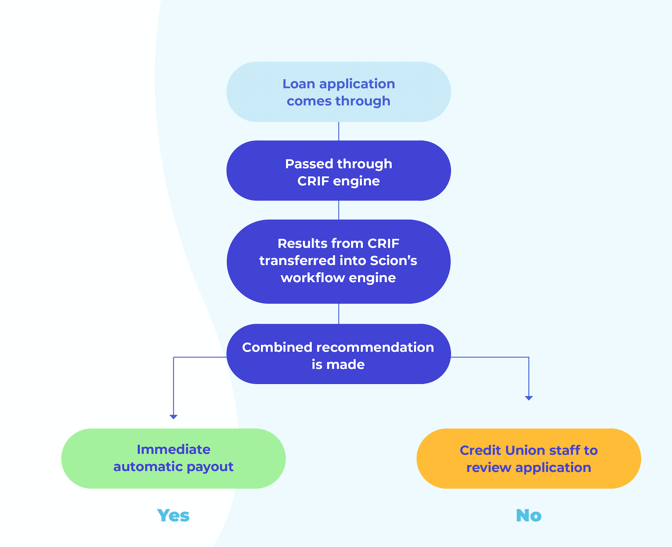 This means your staff can spend more time nurturing your members' needs, processing larger loans or business lending.
We also hope to share the decision-making benefits of Decision-as-a-Service with your members. In the future, when they submit their loan application online, they'll be able to get an automatic view of the likelihood of success based on the information they provide. This will give them more reassurance and confidence after applying for their loan.
In conclusion:
Decision-as-a-Service combined with cuMobile, eSignatures and automated tasks in Scion, can automate the entire loans process to ensure a modern and exceptional member service, backed up by the human touch.
Are you ready to delight your members and reduce lending risk? Register your interest in Decision-as-a-Service below: