Since lockdown was enforced we have all had to adjust to a new way of life. This has resulted in an even greater reliance on digital services such as online shopping, remote working and streaming services, who are experiencing a significant rise in usage – Netflix have more than doubled their expected new subscriptions since the Covid-19 lockdown and Zoom usage has gone from 10 million in December 2019 to over 300 million in April 2020!
As a technology provider to the Credit Union sector, we are also seeing a significant uptake in their digital services in 2020. This is a trend that is continuing to grow during the current pandemic.
New members are joining their local Credit Union online using digital member onboarding and there has been a significant increase in member registrations for online banking (cuOnline+). Consequently, this has led to a rise in online banking activity from both new and existing members.
The below data shows online usage trends from April 2019-April 2020.
225

% increase in digital member onboarding
The graph below shows a 71% increase in average monthly new online member applications since the start of 2020 compared to 2019. Furthermore, if we compare April 2019 to April 2020 we see a 225% increase in Digital member onboarding in Credit Unions.
New Online Member Applications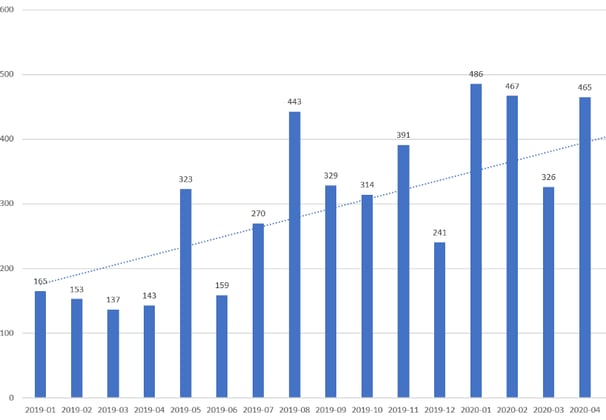 How are Wellington IT responding to this trend?
As part of our 2020 roadmap we have been working with our partner IDScan to offer ID Verification for digital member onboarding. This will simplify the member journey whilst providing security and peace of mind in relation to data capture and data integrity. We have adapted our platform to include functionalities such as liveness checks, ID documentation verification as well as the pre-population of data; saving member time whilst ensuring the validity of data.
For a demo of ID Scan check out our video from cuEngage 2020.
1

35

% increase in online registrations
The graph below shows a 79% increase in average monthly online registrations for cuOnline+ compared to 2019. If we compare April 2019 to April 2020 we see an increase of 135% in online banking registrations.
Online Access Requests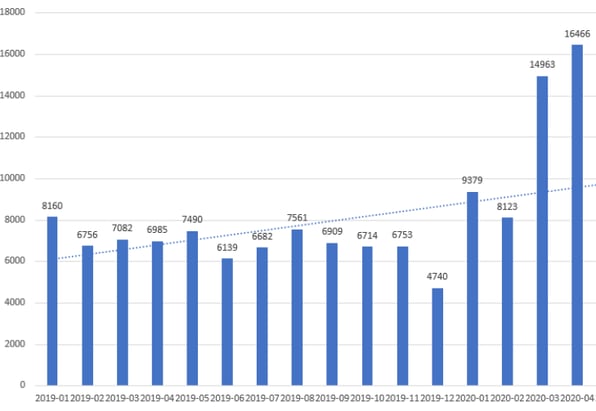 How are Wellington IT responding to this trend?
Our mission with our online banking was always to make it intuitive and functionally rich for both the member and Credit Union. This goal has become much more prevalent since lockdown.
As we see more and more members apply for online banking we want to make it as easy as possible for them to use this service.
In Q2 2020 we will be launching our NEW interactive mobile app which will include functionalities such as a biometric login, the ability to apply for loan, an efficient method to make quick and easy debit card payments as well as the flexibility to transfer money between internal accounts and EFT payments.
You can view an early demo of the mobile app here.
55

% increase in online usage
The graph below shows a 22% increase in online account logins for online banking (cuOnline+). Furthermore, if we compare April 2019 to April 2020 we see a 55% increase in online usage.
Online Account logins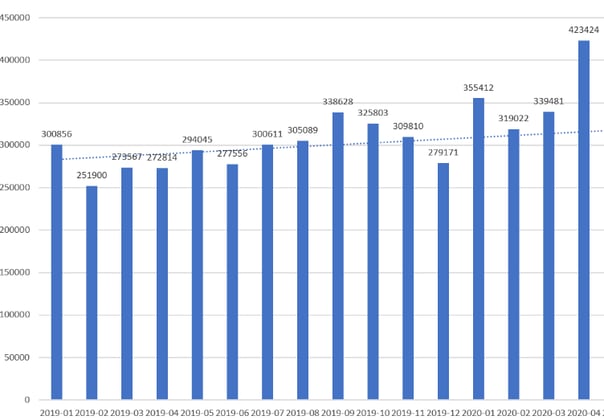 How are Wellington IT responding to this trend?
Whilst it is important that members can access their finances from wherever they are, it is also important that they can complete the same processes online that they could in branch – particularly when it comes to lending.
There has been a significant uptake in the use of e-signatures since the pandemic and ECCU questions have now been added to cuOnline+ loan applications. This enhancement will allow Credit Unions to offer a true end-to-end loan process.
In addition to this, in Q2 we are developing automated decision-making on loans. We have already integrated with CRIF and produced the de-duplicated credit report. The next stage is to work with CRIF on producing a recommended decision. This process removes the need for members to come into their branch as they can apply and receive their loan payments from the comfort of their own home.
As you can see there has been a significant rise in online activity in 2020. As the lockdown continues, we expect these numbers to increase further and we are encouraged by how Credit Unions and their members have adopted these digital services.
As your technology provider we are constantly reviewing our digital service offerings and ensuring that we are responding to the market as the pandemic unfolds.
If you have any questions regarding any of the above stats or services, please get in touch with us.