Every year, Credit Unions are considered one of the most trusted brands in Ireland. Further to this, they've topped the CXi Customer Experience Survey 4 years in a row! Credit Unions differentiate from banks and other financial institutions because they're not for profit, and make decisions at a local level; they take into consideration the individual needs of their members and don't take a 'one size fits all' approach.
Credit Unions have always had the edge over banks when it comes to providing an exceptional service to their members and their community. But whilst traditional and challenger institutions are still playing social responsibility catch-up, now's the time for Credit Unions to go even further, and offer members amazing digital services that complement the traditional in-branch services offered.
And with the amount of digital services provided from IT providers at present, even adopting just one of these can hugely benefit your members and also your staff.
Digital Member Onboarding.
Think about your current process when it comes to signing up a new member of your Credit Union. Typically members would need to physically visit the branch, or call the Credit Union in order to join. Some Credit Unions offer downloadable membership forms on their websites, that members can print, complete, and post back to the branch.
However all of these methods come with a heavy administrative burden, and is time consuming for the member to visit branch. Staff need to re-enter all the information into their core Credit Union system, which can take up valuable time, and opens it up to human error.
Onboarding new members online is proven to be 4x faster than traditional methods. And this doesn't even take into consideration the time it takes for postage or travel!
Check out the scenarios below: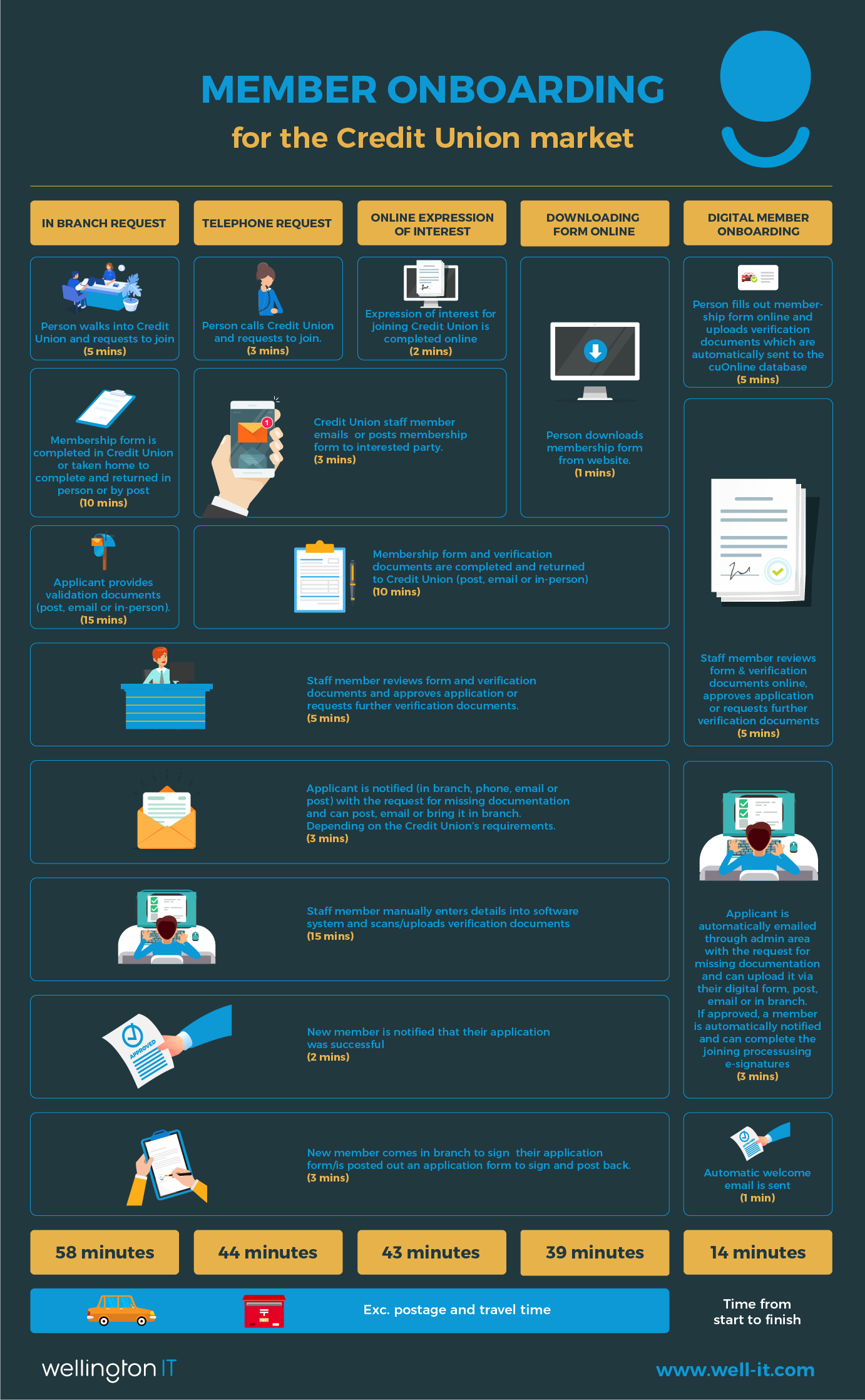 As you can see, much of the traditional member onboarding process relies heavily on manual intervention from staff. Digital Member Onboarding lets the potential member complete all their information, from anywhere, at any time, with any device. They can even upload copies of their ID and proof of address straight away. This means Credit Union staff simply need to compare these documents to the live photo the member is required to take during the onboarding process.
Reviewing member's applications is easy. Staff log into their admin section, and can review all pending applications. They can review the information and documents members have submitted, and approve or reject their application. They can even request further documents from the member, if they need more verification. All of this takes a matter of minutes as opposed to hours or even days!
Once a member is approved by staff, their information is automatically transferred to the core Credit Union system, saving valuable time since staff don't have to manually enter all the information.
Online banking.
Our online banking solution, cuOnline+ incorporates digital member onboarding (as outlined above), account management and e-signatures.
cuOnline+ allows members to avail of Credit Union services from any device, anywhere, at any time.
According to Visa Digital Payments Study, 78% of Irish people now use their mobile devices to keep track of their finances.
With Credit Union online banking platforms undergoing major improvements, becoming mobile-first, and now matching (and even beating) the majority of the big banks, members and potential members will feel more at home managing their accounts with Credit Union.
With online banking solutions, such as cuOnline+, members can manage their finances, set up standing orders, download statements, and transfer money both between different Credit Union accounts and other bank accounts.
With new opportunities arising through Biometrics, PSD2 and open banking, there is no limit to what members can benefit from with their Credit Union.
Loans.
Online banking also allows members to apply for loans, right from their personal device.
They can use a loan calculator to help them decide on a loan amount, and prepayment options. Then they can apply straight away.
Credit Union staff can review all loan applications, and approve or reject, with reasoning.
If they approve the loan, they can send a Credit Agreement to the member's cuOnline+ account, where the member can review the document, and using e-signatures, electronically sign to confirm the terms and conditions of the loan. Read more about the legalities around e-signatures here.
This means that members don't need to physically visit a branch if they want to apply for a loan, and staff don't spend time and cost posting Credit Agreements, and chasing them to be returned. It's a better service for members, and a better process for staff.
Any one of these digital tools save staff time. Time that could be spent on selling loans, marketing the Credit Union, and working on future strategy. Combine all 3 in your Credit Union, and you are a force to be reckoned with!
Want to see Digital Member Onboarding in action? Watch our short video below: