For over 30 years we have made it our business to immerse ourselves in the Credit Union market. Our local knowledge and industry expertise is unrivalled and we have used this experience to build a fully integrated ecosystem that we believe is needed for the future sustainability of Credit Unions.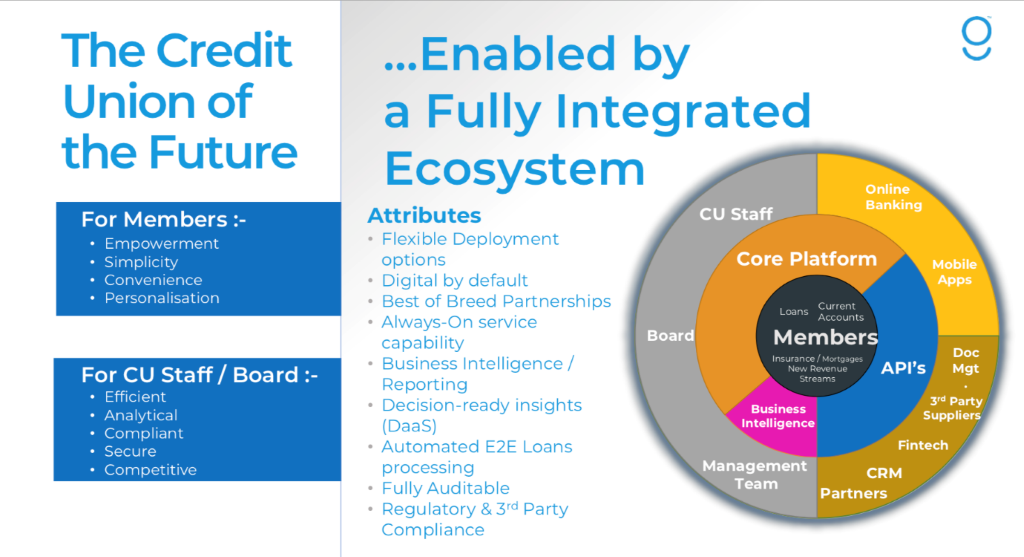 You can view larger image of this diagram here
Member centric technology
This ecosystem is designed with the members at the centre, offering them simple, convenient, and personalised services such as loans and current accounts, which are managed by the member through online banking facilities and mobile applications. 
At Wellington IT, we aim to ensure that the services that we provide our Credit Unions ensures that each member's journey is respected, whilst still improving Credit Union efficiencies along the way (Check out our member journey graphic blog below).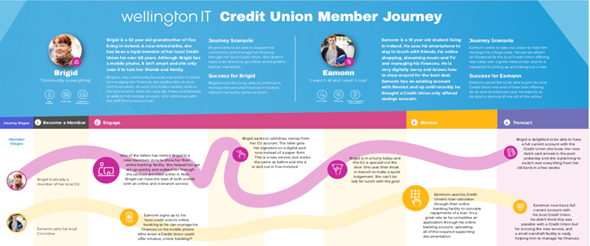 View the full member journey here.
Robust core platform
Supporting these member services is the core banking platform (Scion) which offers the robust security measures and compliance tools to manage the Credit Union's sensitive financial data.
The core platform has 5 main functional areas with hundreds of rich functionality and programs within them:
Counter

Operations

including core program

s

such as

Cash Management:

, the

Counter Program

,

Receipts and printing

, Automated Routines and Budget Accounts

.

Transaction Automation

including core program

s

such as s

tanding orders/payrolls

, d

irect

, i

nbound debit card payments.

Loan processing

including core program

s

such as

w

orkflow processing

, a

rrears

, l

oan application form

, l

oan condition

and credit scoring.

A

ccounts & Alerts

including core program

s

such as

a

cc

ount information

, l

etter production

SMS &

e

mail al

erts,

automatic statements and PEP/sanction list database lookup.

Compliance

including

core programs such as

PEPs, GDPR Purge, AML and

PSD2

.



Business Intelligence
Supporting the Scion system is our reporting and business intelligence tool, cuInsight. cuInsight provides rich member data to allow Credit Unions to fully understand their market, produce compliance reports and identify future trends.  Check out this case study from Central Liverpool Credit Union who save 6 hours per week on reporting through our reporting tool cuInsight.
Intelligent automations
The Scion system has hundreds of built-in automations such as end of day processes, loan issue reports etc. to allow your Credit Union to get on with what you do best – serve your members!
So, whether it is reducing the onboarding of new members to ¼ of the time with digital member onboarding (check out our info graphic here) or not having to draw the short straw on Christmas day to run your EFT processing, we have designed our system to maximise efficiencies within your Credit Union and give your tellers their precious time back.
More on our automation capabilities within Scion here.
Third-party integrations
This ecosystem integrates with an extensive list of 3rd party applications that help towards increasing security, expanding member services and improving operational efficiency for Credit Unions. We currently work with over 40 partners and have created flexible APIs for a specific range of business functions.
As part of our ongoing strategy we have built 1100 different API end-points e.g. member details, loan history etc that can be easily integrated into any 3rd party systems.
More on our 3rd party APIs here.
You, the Credit Union
Finally, the Credit Union themselves make up an important part of this ecosystem. As with any partnership, they play a vital role in shaping the future technology of their industry.
In fact, our 2020 Product Roadmap has been built in collaboration with our customers through regular user group conferences, customer check-ins and our annual customer event, cuEngage. 
There are 3 key themes for the 2020 roadmap
Product simplification
Lending
Member experience
Check out this blog to find out the latest version of our roadmap.
The future for Credit Unions is exciting and we are so pleased to be on this journey alongside our customers. As we continue to grow and strengthen this ecosystem we will ensure that our focus is on futureproofing your Credit Union by putting the member at the heart of everything we do.