The financial sector is highly competitive. Recent years have also seen disruptor banks enter the market; the likes of Revolut and Monzo.
These newer Fintechs sure can talk the talk, but when you're comparing Credit Unions to a Revolut or Monzo, you're really comparing apples to oranges.
Which is why it's extremely important to have an IT partner who is an expert in the Credit Union sector – not the broad financial sector.
Here's why.
Credit Unions are NOT Banks.
Credit Unions are not banks. Your heritage, community and ethos are unique, and just like you, we're very proud of that!
As David McWilliams said at cuEngage:
"Credit Unions are what helped your Granny and Granda buy their first house. They're what helped Uncle Mick set up his own business. And they're what helped your best friend renovate their home for the arrival of their new baby.
These are the stories that make the difference. Please be sure to share these stories far and wide".
Your social value is what sets you heads and shoulders above the competitor Fintechs.
That all being said, that doesn't mean that your software shouldn't provide all of the same services that a banking solution can offer.
Today, Credit Unions can now offer debit cards, current accounts, overdrafts, end-to-end online loans and much more!
(Psst...you can request a recording our 2021 Product Roadmap here to find out what new services Wellington IT customers will benefit from).
Your local IT Provider knows the local market
For 30 years, we've been working alongside Credit Unions in Ireland to build a robust system, tailored to fulfil your unique needs, whilst still enabling you to compete with other financial institutions, grow your loan book and deliver a great member experience.
We know your compliance and legislation inside out. Credit Unions in the UK and Ireland are vastly different to Credit Unions in wider-Europe or America.
Additionally, an IT provider who specialises in the Credit Union market will be much more agile and adaptive to meet your needs. A larger IT company with many verticals to serve will be much slower to respond, and sometimes try to provide a "one size fits all" IT solution, when in fact Credit Unions are unique and need their own dedicated solutions.
With our 3 offices across the UK and Ireland, we're always your local provider! So, you can have peace of mind that our staff are always accessible to you, any time (and the same timezone) and anywhere – whether on the phone, via video call or face to face!
Like you, we also support the local industry. We're proud to work alongside local Credit Unions both in the UK and Ireland, and because we cater solely to Credit Unions, we have a wealth of experience.
We also have a succession plan that means we'll always be your local partner – a huge benefit from our partnership with Volaris, who never sell their companies.
Together with our customers we are delivering the Credit Union of the Future.
More value for money
Do you know how much Monzo invests into their product? In 2019 alone, Monzo invested £47.2 million into their product.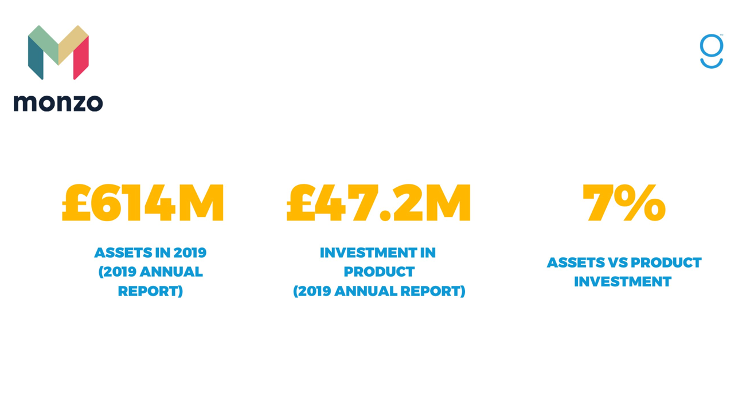 BuiltForMars carried out research comparing different banks across the UK. One area of research was how many clicks it took to have an active account.
One of our customers, Member First Credit Union, carried out this research on their new mobile app, cuMobile, and came out above Monzo! With only 35 clicks compared to Monzo's 45.
In fact, cuMobile came out tops compared to all other banks and Fintechs, 2nd to only Revolut.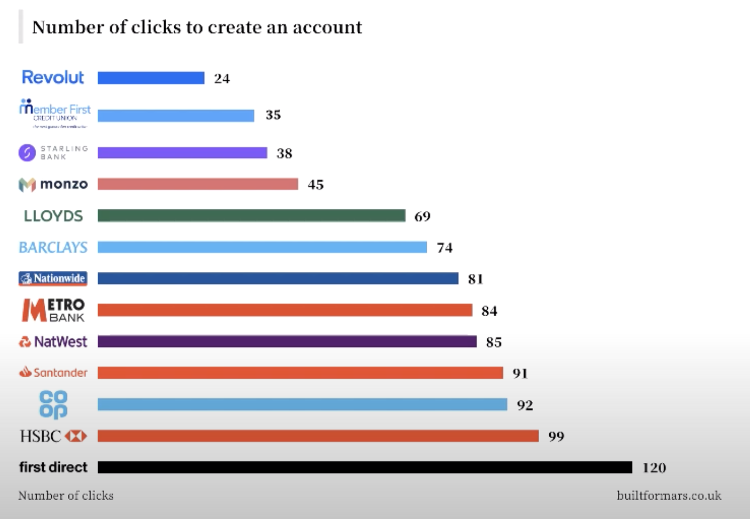 Having an IT provider who specialises in Credit Unions understand that most of your profits are fed back into your community and your members. You don't want to be spending millions on technology, but you still need your technology to compete with other Fintechs.
By partnering with a local, CU-specific IT partner, you truly have the best of both worlds; local expertise and innovative digital solutions (AND at a fraction of the cost!)
In conclusion
Based on the information above, we hope you agree that "bigger" isn't always better. In fact, when it comes to Credit Unions, it can be the complete opposite.
Your entire mission is to serve the lives of your members and your local community. You're not a bank You're not a startup FinTech. You are THE community financial institution.
You need to work with an IT partner whose mission is to serve, grow and protect Credit Unions – exclusively!