Open Banking is the biggest shake up the financial sector has seen in a long time.
By enabling customers to share their transaction data with new financial institutions in a standard and secure way, it aims to open the way for a range of new businesses and services to compete with the big banks, by providing customers with better products, more choice and lower prices.
This is a golden opportunity for Credit Unions!
There are 4 key benefits with Open Banking for Credit Unions, some of which we discovered during our cuEngage session on 5th May (catch up on that session here).
Ability to give Credit Unions
direct access to members
'
c
urrent
a
ccount
s
for income/expenditure analysis
NB: This is the element Wellington IT have committed to and we're delighted to launch it soon!
Open Banking provides you with a major opportunity to access your members' current account for income and expenditure analysis. So even if their current account is not with your Credit Union, you can view their spending patterns and learn more about their salaries.
This access will help you make better data-driven decisions when it comes to loan applications, boosting the quality of your loan book. You will also gain an understanding of how your members spend their money, meaning you could tailor loan offerings to them. For example, if you can tell they spend money every June somewhere in the USA, you could target them with a great Holiday Loan offering.
This is the element that we've developed at Wellington IT. Here's a sneak peek at how the analytics screen looks!
We've integrated the process of connecting your current account to the online loan application form to enable the Credit Union to analyse your members' income and expenditure. This will be available in summer 2021. Below is a flow chart showing how applying for a loan will work once integrated with Open Banking.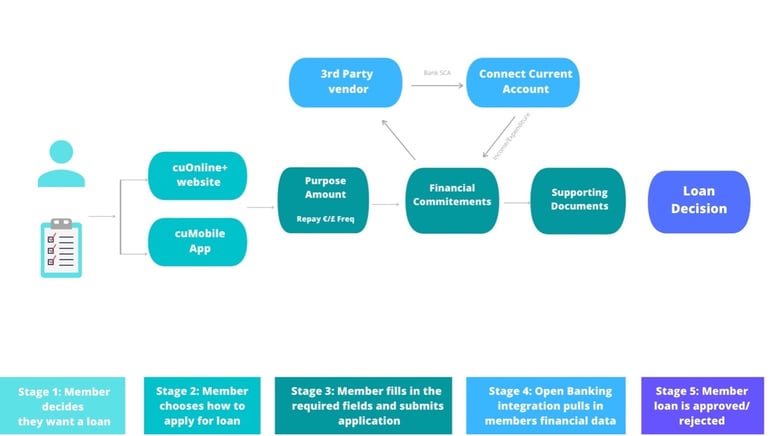 The ability for members to view all financial information via one app
Another opportunity for Credit Unions is the ability for your members to view all financial information via one app.
In our recent Nationwide surveys, we revealed that 60% of people in Ireland and 42% of people across the UK want to view all of their financial information through one app.
Also, 41% of Irish people want to connect their bank accounts via their financial app, with a quarter of people in the UK wanting the same.
This is a huge opportunity to deliver an even better experience to your members.
And when this happens, there's an opportunity for Credit Unions to showcase their digital services and their ethical loan offerings to those who don't have a Credit Union as their primary account.
This will help boost awareness to the public of the great things Credit Unions can offer.
Transaction categorisation
The third opportunity for Credit Unions is Transaction Categorisation.
'Categorisation' is used to describe the classification of financial transactions, labelling each transaction with a pre-defined category label.
The instant benefit of transaction categorisation is gathering meaningful insights from a set of transactional data, for both your Credit Union and your members.
Your members can understand how they're spending their money, and where they could make savings if possible. For example, if 40% if their spending is spent on 'dining out', they may want to try and reduce this.
Similarly, your Credit Union can understand how your members are spending their money, and therefore will help you be relevant in your marketing efforts. For example, you may see that a large percentage of a certain members' money is being spent in DIY stores, so you could target them for a home improvement loan.
This can also help with loans analysis. You may see that someone who has applied for a loan, spends a lot of their money on gambling. Should you be providing that loan?
Below is what an example of how transaction categorisation could look: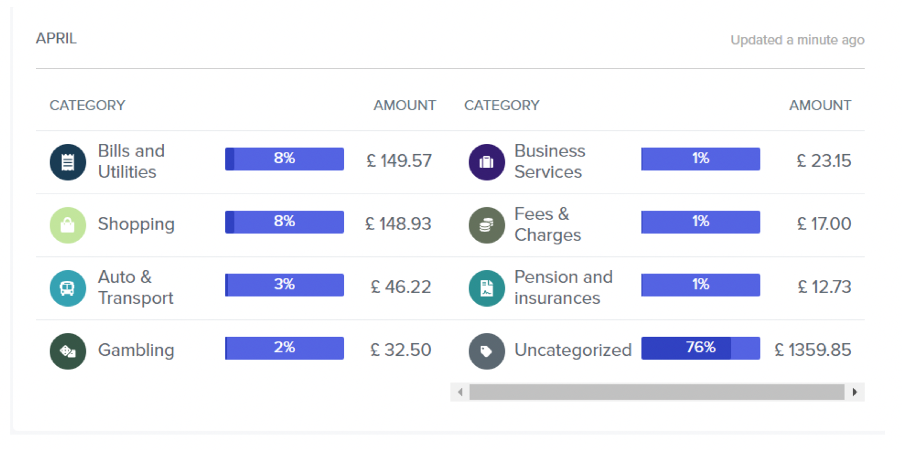 Faster payments and lower fees
Open Banking provides instant bank transfers.
Open Banking allows for direct account-to-account payments, enabling your members to send money without having to enter card details or share their bank credentials.
Paying "by bank" rather than "by card" is faster and more secure for members. It saves your members time and gives them more options to pay. They could lodge money from their bank account into their Credit Union account or loan balance much quicker and easier.
For your Credit Union, the "paying by bank" option saves you money. It bypasses card clearing schemes, thus reducing fees for your Credit Union as there are no card fees.
Open Banking isn't going anywhere
The report 'Open Banking: An Introductory Guide for Credit Unions' states that for Credit Unions to harness the opportunity that Open Banking presents, and to ensure that it is used in a safe, impactful, cost-effective and sustainable way, it will require movement-wide collaboration. Whether a Credit Union decides to use it or not, Open Banking matters, because it is set to be a major feature of our increasingly data-driven financial system – and our lives.
To register interest in the loans integration for your Credit Union, please click the button below: