One of the many things that differentiates Wellington IT from other solutions is our Shared Services and infrastructure.
What is Shared Services?
We build all of our integrations from this one, central, shared place. This means it's easier and more efficient for us to deploy and upgrade services for all our customers, since we're only having to do it in one place. As a result, our customers can quickly launch new services to their members.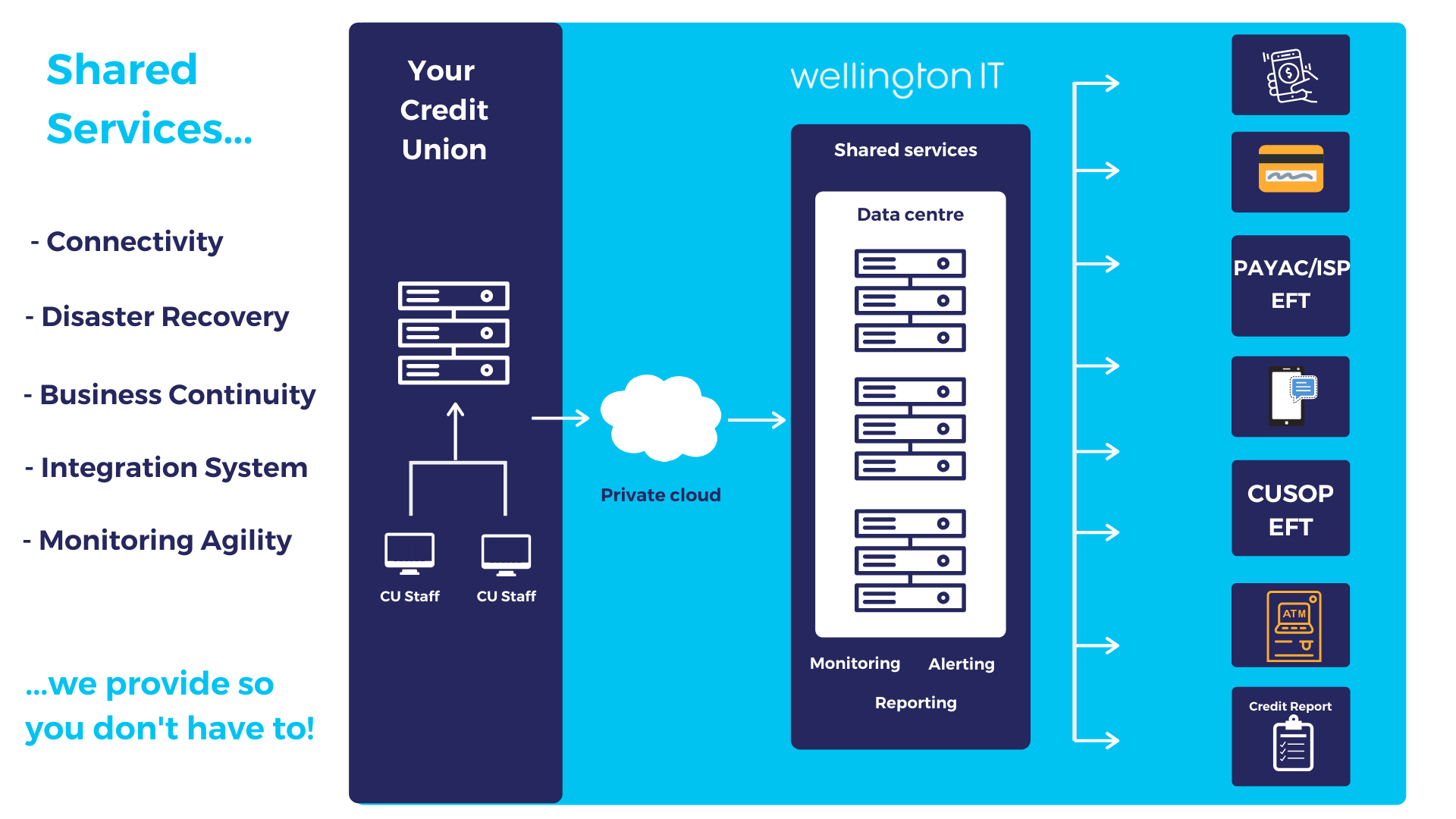 Can't see this image? Click here.
Shared Services covers; cuOnline+ (online banking), cuAnywhere (Mobile App), cuCard (Debit Card), ICB Online, cuPay (CUSOP EFT processing) , ATMs and Credit Reports.
The 'techy' part
.
These services are hosted on dedicated servers, held in secure cabinets owned by Wellington IT Solutions and situated at two Interxion data centres. Interxion themselves hold ISO27001 Certification for ISMS and ISO 22301 certification for Business Continuity Management.  
The servers located here are exclusively operated and maintained by Wellington for the purpose of shared services provision.
Access to the servers is restricted both physically and logically. Remote access to servers by Wellington IT Solutions staff is routed through a recording PC and is therefore fully auditable. Data traffic is channelled through managed firewall ports and is transmitted on MPLS and 128bit encrypted VPN connections. Key equipment such as firewalls, switches, and modems are configured in failover arrangements to eliminate a single point of failure. 
In summary
The fact that we can deploy and upgrade from this one place means that our customers can quickly launch new products and services for their members, continuing their excellent customer experience.