We're delighted to announce that Alan Adair, Digital Tech Lead at Wellington IT has won IT Architect of the Year at the prestigious Tech Excellence Awards, created by TechCentral.ie.
Alan received the award during a black-tie ceremony at the Royal Marine Hotel in Dun Laoghaire, Dublin, in front of over 400 attendees. Now in its 20th year, the awards programme recognises excellence in the design, implementation and support of technology solutions and services in Ireland.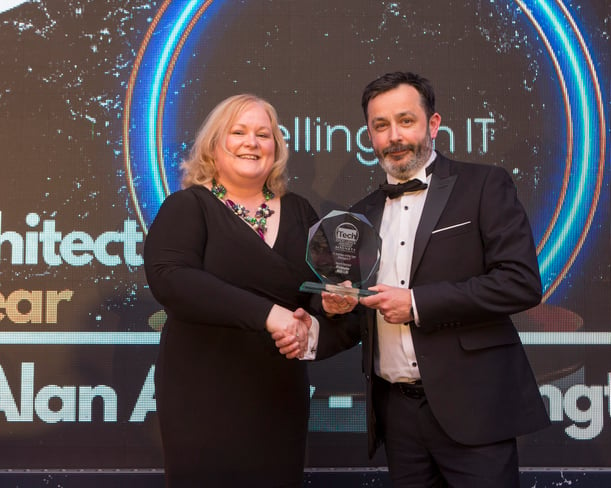 Can't see the above image? Click here.
Alan, pictured above with Award sponsor Lorna Martyn (Fidelity Investments) was recognised for his role in developing cuMobile, the first banking app designed to enable Ireland's 3.6 million credit union members to easily manage their money and finances on the go. Alan was the lead developer of the revolutionary app and was responsible for spearheading its rollout, which was the culmination of multi-year investment programme.
The cuMobile app was developed in Ireland by Alan and his team, built specifically to support an increasingly competitive credit union sector as it vies to take on traditional banks and fintech companies with the increased demand for digital services. The app allows more convenient and widespread access to digital services for credit union members, such as managing payees, applying for loans and setting up direct debits.
cuMobile uses sophisticated technologies, such as biometric login via facial or fingerprint recognition, to provide a smooth, secure experience for members. It can be configured according to credit unions' individual requirements, ensuring an entirely personal and tailored experience for end users. Top quality member experience has always been the number one priority for Ireland's credit unions and Wellington IT has made a significant investment in ensuring that the app goes one step further in delivering this, while also allowing credit unions to serve a wider member base.
By allowing users to access every credit union service fully and securely through the app, Alan's solution reduces paperwork, data entry and administrative tasks for credit unions. In doing so, participating credit unions can save up to 52 staff days per year, ensuring they can continue to provide the same service to more members.
In-branch loan applications are reduced from 20 minutes to approximately five minutes, appealing to credit union employees as well as members, as they can focus on expanding their loan books as a result. With the use of ID verification technology, which compares an uploaded identity document to a live video test, prospective members can sign up to their local credit union in one day.
Wellington IT has seen nearly 180,000 downloads of the cuMobile app since its launch 18 months ago, with 92% of Wellington IT credit unions utilising the app. Alan and his team are continuing to improve and update the app based on member feedback.
The credit union sector is digitising at a rapid pace and cuMobile is a significant facilitator of this. It allows institutions to save time, automate processes, and increase efficiency, while also providing a more interactive and comprehensive experience for credit union members.
Ian Glenn, CEO, Wellington IT: "A huge congratulations to Alan and his team at Wellington IT. It is great to see industry recognition of the effort they all put in to our products on a daily basis. Nominees across all awards were stellar and it's a great achievement to even be nominated, so to go on and win is fantastic. We at Wellington IT are excited for future enhancements of our digital products, in collaboration with our customers. Thanks also to our amazing customers and partners who we work closely with to develop and support these products."
Learn more about cuMobile in our short video here.