Credit Unions

were one of the quickest industries to respond to the pandemic,

and

have

stayed loyal to their members and true to their mission, offering an even better service to members than ever before

through investment in new technology

Credit Unions analysed and adapted some of their current processes to provide more convenience to their members

With new offerings including current accounts, online loan applications and a mobile app, Credit Unions

are continuing to invest in technology to allow their members to transact and manage their finances from home, keeping them safe

during this difficult time
Member online usage has significantly increased. Credit Unions have seen a 135% increase in online registrations and a 225% increase in new members joining their Credit Union online
If there's one word that describes Credit Unions, it's 'loyalty'.
During the pandemic, Credit Unions were one of the quickest to respond and adapt to meet their members' needs. From loan repayment breaks to home cash delivery services to simply calling their more vulnerable members to make sure they were ok, Credit Unions truly went above and beyond for their members.
There's no doubting the economic downfall this pandemic has caused, however the number one priority for Credit Unions is (and always will be) their members.
Credit Unions were deemed an essential service during the pandemic and took many measures to ensure their premises were adhering to NHS/HSE guidelines by implementing sanitising stations, PPE and encouraging members to use self-serve kiosks for transactions.
However, most Credit Unions already had digital services in place such as online banking and the ability to sign documents electronically, so they encouraged their members to use these offerings so they could stay safe in the comfort of their own home.
Providing convenience through digital technology
One of the first Credit Unions to respond to Covid-19 was Core Credit Union. At the end of February, Core updated their website to include a constant web banner which directed members to a landing page all about Covid-19; how to keep safe, how to contact the Credit Union and encouraging them to register for their online services.
Core kept in regular communication with their customers, informing of them of their opening hours, online services and offering loan repayment breaks.
Before the pandemic, Core's members couldn't withdraw their savings online, however Core quickly changed their processes to allow members to do this.
Mark Ryan, IT Manager at Core says "We knew our members needed instant access to their savings during this difficult time and we wanted to ensure they stayed safe and didn't have to come into branch to withdraw their savings. So we worked with our IT Provider and changed our process so members could withdraw money from their savings online".
Typically, members of Credit Unions receive their PINs through the post, but a number of Credit Unions changed this process so members received their PINs instantly via text message, serving that immediacy that members needed.
Always there for their members
Credit Unions have always been there for their members. You're not a 'number' at the Credit Union; you're a person.
They have some of the lowest interest rates on loans. They provide 'It Makes Sense' loans for those who may struggle to get a loan elsewhere, trying to prevent them going to money lenders whose interest rates are astronomical.
During the pandemic they've offered emergency loans, and donated money to local charities who needed funding the most during this difficult time. Some have implemented loan repayment breaks or interest-only payments during this time.
Loans can be applied for completely online, with Credit Agreements and Health Declaration forms being electronically signed.
New members are always welcome to join their Credit Union, even during the pandemic, and can join online, even uploading proof of address and ID.
MYTH: Credit Unions can't offer the same services that a bank can
There's often a perception that Credit Unions can't offer what the "big banks" can offer. This is simply not the case.
On top of the friendly service and community spirit of Credit Unions, they also offer full banking services, including a current account, debit card and overdraft facilities. Meaning you can choose to leave your bank completely and manage all your finances through your local Credit Union.
Wellington IT recently held their cuEngage event: 4 online sessions around Digital Transformation within Credit Unions, and one of these sessions focussed on Decision as a Service. Michael Byrne, CEO of Core Credit Union was a key speaker during this session, alongside CRIF and Wellington IT.
CRIF and Wellington IT, alongside their customers, are working on enhancing the Credit Union loans process by providing a highly accurate credit score, recommended decisions on loan applications, and automated loan acceptances and payout.
Michael Byrne says "Some banks such as AIB can approve and lodge a loan pretty quickly. I want the same capabilities for Credit Unions. As well as this integration with Wellington IT and CRIF allowing us to be more efficient, it speeds up the process for our members, providing an even better member experience. Decision as a Service combined with Digital Member Onboarding, our new mobile app and e-signatures means someone could join their Credit Union, apply for a loan and receive their loan, all in that very same day – now that is excellent service".
Independent research carried out by builtformars analysed opening 12 different bank accounts. One of the areas they analysed was how many clicks it took to open an account.
Conor Ralph, Marketing Officer at Member First Credit Union referred to this research during his presentation at cuEngage.
"We as Credit Unions need to be confident in what we are offering our members. With our new mobile app, it only takes a prospective member 35 clicks to open an active account. This places us in 2nd place, only below Revolut".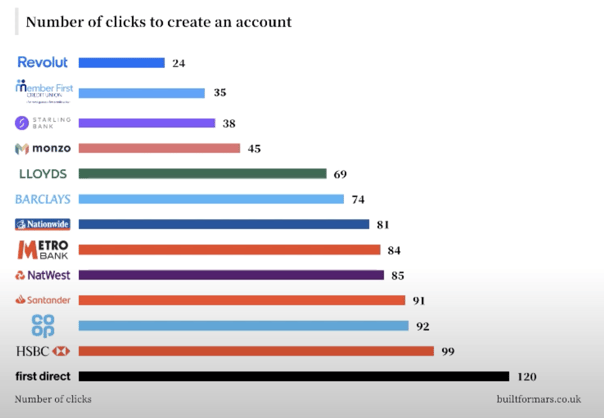 Stats show that member online usage has drastically increased during the pandemic, with a 135% in online registrations and a 225% increase in members joining their local Credit Union online*.
Even though this is a challenging time for everyone, Credit Unions are still thriving and serving their members better than ever before.
So we'll ask the question again; do you still believe Credit Unions cannot offer the same services as banks?
Interested in seeing how member online usage has increased during the pandemic? Check out our blog below:
*stats based on Wellington IT customers