Summary
cuMobile allows members to seamlessly log in via biometric technology

Members can enter their information, upload documents such as ID, proof of address and utility bills, and tick a box to say

they want access to online banking.

Automatic ID Verification via

IDScan

analyses their ID against a liveness test and selfie photograph, providing you with a report on whether their ID

was accepted or rejected.

Members could essentially join your Credit Union, apply for and receive their loan, all online, all in the same day! This is a service that banks can't currently offer.

John Fee, Compliance & IT Manager at Dundalk Credit Union says

"We have been using cuMobile for the

last two months

and have found it to be transformational both for our

members

and for staff in our branches. The technology makes it easy and fast for

members

to use and there is no need for passcodes and PIN resets. It is also giving time back to our credit unions to focus on activities such as

lending and other valuable member services

."
Current situation
In the last 3 years, the number of Credit Unions in Ireland alone have dropped from 272 to 234 due to mergers. One of the results of these mergers is that some Credit Unions need to serve members that are further afield than their original common bond. This, and the fact that your members are busier than ever before and expect a mobile banking experience is what makes a mobile app a vital part of your Digital Strategy.
"Members want to self-serve and do more themselves. They want to have the option to manage their finances completely online without having to speak to Credit Union staff or pop in branch. Some even find having to go into branch as a barrier".
This sentiment from John Fee at Dundalk Credit Union was echoed across many of our Credit Union customer base and so, last month in July 2020, we launched our new mobile banking app, cuMobile.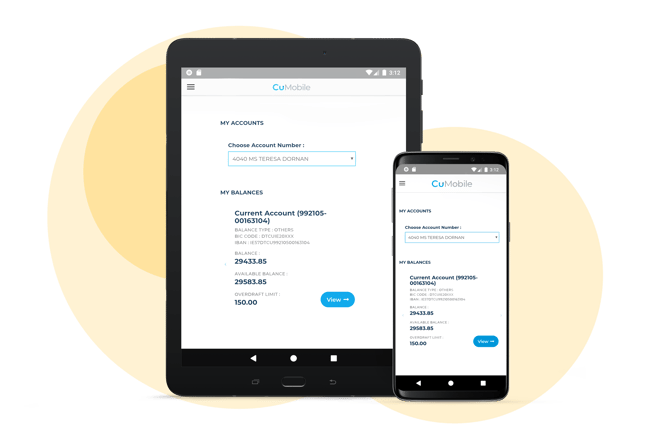 Why cuMobile is beneficial for members
cuMobile allows members to easily manage their finances on the go.
Biometric login via facial or fingerprint recognition provides a smooth, secure experience for the member. They no longer have to recall passwords or PIN numbers to log in.
cuMobile's user interface is similar to cuOnline+ so your members will already be familiar with it. Members can view their balances, set up direct debits, manage Payees and update their personal information quickly and easily.
Independent research carried out by builtformars.co.uk analysed the experience of opening accounts in 12 banks.
Firstly, they analysed how many working days it took for them to have an active account. Lowest was Barclays, Monzo and Starling, as you can see from the chart below, who only took 2 days.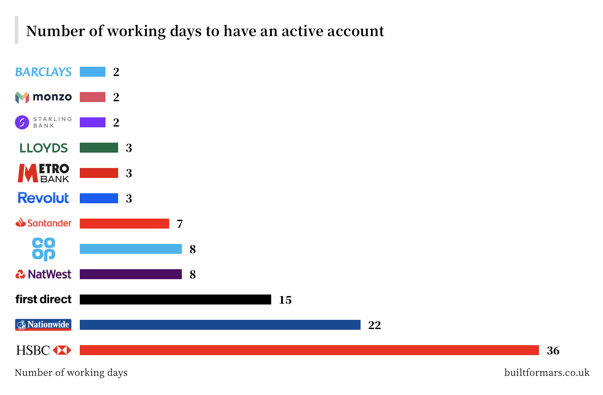 Similarly, they analysed how many clicks were required to create an active account, which you can see in the chart below: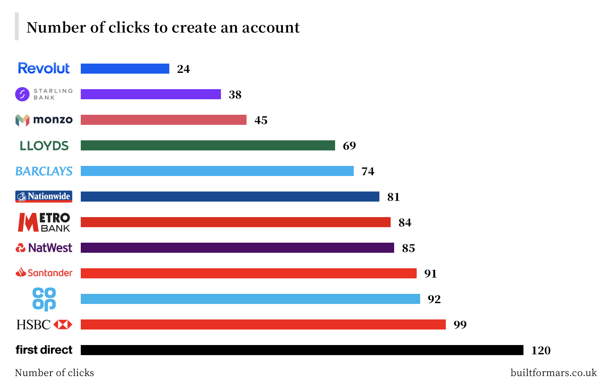 With cuMobile, prospective members can join your Credit Union online via Digital Member Onboarding. Members can enter their information, upload documents such as ID, proof of address and utility bills, and tick a box to say they want access to online banking. Automatic ID Verification via IDScan analyses their ID against a liveness test and selfie photograph, providing you with a report on whether their ID was accepted or rejected.
This application will sit as 'pending' in your staff's admin section, where they can review the information and either accept, request further information or reject the applicant.
Essentially you could have a new member join your Credit Union and have an active online account in the same day. What's more, we carried out this same analysis with cuMobile, as did our customers, and as you can see in the chart below, our customer Member First Credit Union comes in second place with cuMobile with only 38 clicks.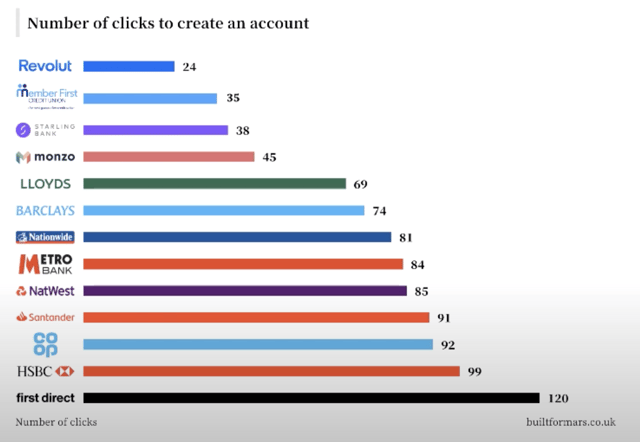 Members could essentially join your Credit Union, apply for and receive their loan, all online, all in the same day! This is a service that banks can't currently offer.
The built-in loan calculator allows your members to work out repayment costs and times, and from there they can go straight in and complete a loan application through the app. They can input all relevant information and upload ID, proof of address and any supporting documentation right from their smartphone or tablet.
Based on our customer data, there are 3 to 4 documents per loan, per member that would need to be signed and scanned to the member's account. That can take up to 20 minutes in the office. If a member was to do that online, it would take them about 5 minutes.
This is of huge benefit to the member as they can apply for and receive their loan much quicker, serving that immediacy that many people need.
If the Credit Union approves a member's loan application, they can send down a Credit Agreement and Health Declaration directly to that member's account and the member can electronically sign these via their app using One Time Passcodes for security.
The entire loan application process is a quick and enjoyable experience for your members.
How cuMobile benefits your Credit Union
Reducing the need for any manual rekeying of information and applications has massive time efficiencies for Credit Unions and reduces human error. This was an important factor when building the app. By enabling members to self-serve, cuMobile not only avoids rekeying data, it also integrates with our core system, Scion, ensuring that all data is accurate and up to date.
You can save time and money sending documents to cuMobile to be electronically signed. For example, Credit Agreements and Health Declarations can be pages-long and removing then need to print / sign / scan / upload / post these documents saves your Credit Union time and costs. This also means you can approve and pay out loans quicker than ever, helping to grow your loan book.
As these signed documents are saved in Scion, you no longer need physical space to store all this paperwork, and you can set up an automation in Scion to electronically store these documents for as many years as you need them.
Biometric login via facial or fingerprint recognition reduces the need for One Time Passcodes or PIN resets, which also saves your Credit Union staff time. It's also still PSD2 compliant. Less members will ring up saying they've forgotten their password or ask you to reset it for them.
But don't worry, if a member doesn't have a device with this functionality, they can still log in via their username and password.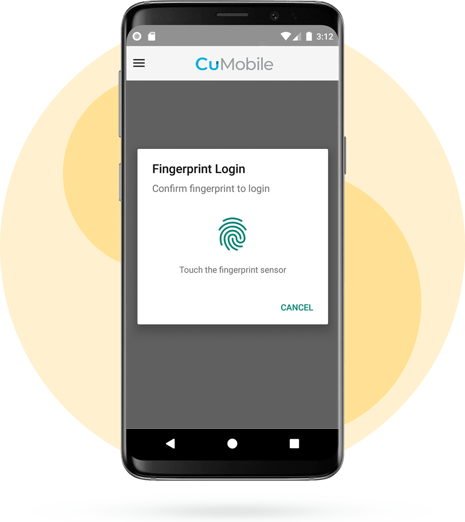 Mary Peters, Operations Manager of HSSCU spoke at cuEngage, and said "We will generate efficiencies with cuMobile as there is no need for OTPs and PIN resets".
John Fee, IT Manager at Dundalk Credit Union says "We have been using cuMobile for the last two months and have found it to be transformational both for our members and for staff in our branches. The technology makes it easy and fast for members to use and there is no need for passcodes and PIN resets. It is also giving time back to our credit unions to focus on activities such as lending and other valuable member services."
What's coming next with cuMobile?
The next release of cuMobile will include push notifications. These will allow your Credit Union to send messages to your members by means of notifications through the app. Alert your members to AGM dates, competitions, loan offerings and much more!
Do you want to see cuMobile in action? Request a demo today and enhance your digital offerings!